DEEP science on over 350 000 Twitter timelines
Scientists and policymakers around the world active on Twitter received an outburst of tweets from Department of Ecology, Environment and Plant Science (DEEP), during a conference in the field station Tovetorp. - We never imagined we would reach out to so many, says Pil Rasmussen, PhD student and Science communicator at DEEP.
For the internal conference at DEEP the Communication Group launched the hashtag #DEEPsoup17 which was used in hundreds of Twitter posts. The aim was to reach stake holders on Twitter and highlight DEEPs research regarding for example biodiversity.
A unique Twitter operation
The meeting hashtag #DEEPsoup17 was seen over 350 000 times by 48 655 unique users over a 10 day period. That is very good for a fairly new Twitter account like @DEEP_sthlm_uni.
- This is the first time we see a department at Stockholm University promoting their researchers and their science presentations in this way in connection to a conference, says Helene Komlos Grill at Stockholm University's External Relations and Communications Office.
Lina Mtwana Nordlund, which was one of the scientists leading the Twitter operation, and also member of the Communication Group, says:
- We hope this will increase the interest for our scientifically broad department.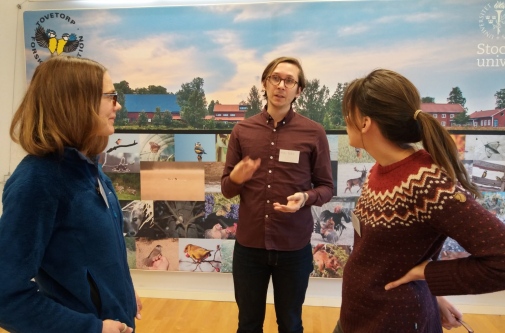 Tweets highlighting climate change and the wonders of the ocean
The conference was set in an ecological and zoological field station on the country side called Tovetorp outside Nyköping. The hashtags that were posted together with #DEEPsoup17 was seagrass, followed by Baltic Sea, cyanobacteria, and climate change were the most common. To find out more about the conference and DEEPs science follow DEEP on Twitter.