Exchanging ideas for forest management under climate change
How can forest management and conservation adapt to climate changes? This was discussed by researchers from DEEP on a one-day-excursion together with members from the forest company Sveaskog.
Climate changes can make plants vulnerable to extinction, since they are adapted to specific temperatures. To protect plants in the forest, Kristoffer Hylander and his group study how forest plants move in the landscape when exposed to warmer climate and how locally colder or warmer spots in the landscape (microclimates) modify these shifts. They study forest along the Limes Norrlandicus (norrlandsgränsen), where the southern mixed forest meets the northern boreal forest. Many northern species don't occur south of this transition zone and many southern species don't occur north of it. During the excursion in the area of Skinnskatteberg the group visited forest sites with different microclimates and places with edge populations of northern and southern species.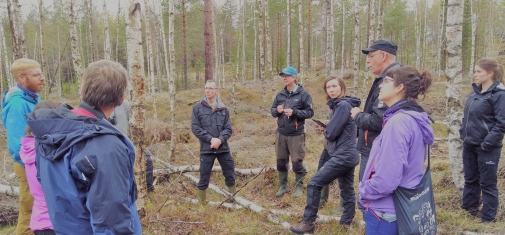 High resolution map identifying cold and warm spots
The DEEP researchers on the excursion were Kristoffer Hylander, Johan Ehrlén, Caroline Greiser, Sonia Merinero, Hilde Nystad and Benny Willman. Caroline and Kristoffer are developing high resolution microclimate maps over this transitional zone and found that forest structure and thus forest management has an important impact on forest floor temperatures. A dense and continuous forest stand in a shaded humid valley is a typically cool place in a forest compared to a south-facing slope with sparse and fragmented forest patches. They wanted to share these important results with their close collaborator Sveaskog – a large Swedish forest company.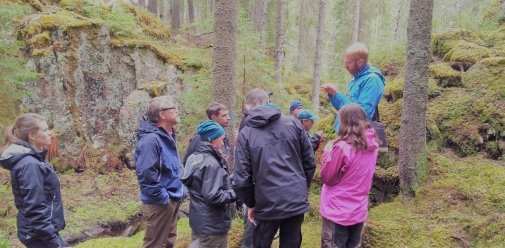 Transplanting plants to other temperatures
The group also visited sites, where the researchers had transplanted northern and southern species in order to study their survival and growth in different forest microclimates. In turn Sveaskog presented one of its Ecoparks and ideas and opportunities were discussed, how forest management and conservation can adapt to climate change.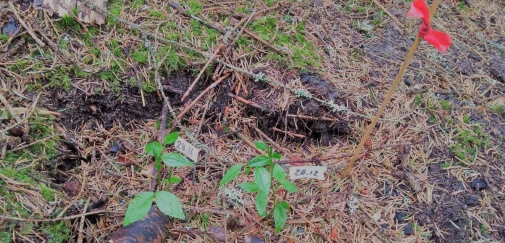 Exchanging info with "the other side"
It was a very fruitful and rewarding meeting of science and forest industry in their common playground – the forest.
- Everybody enjoyed being outdoors and the exchange with "the other side", says Caroline Greiser.
These excursions and workshops are a core part of the research project and help to communicate science and to bring scientific results into practice.