Predatory fish and their importance
With this post we are starting a series of blog posts about the assistant professors (biträdande lektorer) at DEEP. First up is Johan Eklöf and his work on fish, food chains, and biodiversity in places such as East Africa and the Baltic Sea.
DEEP has in recent years hired a large number of assistant professors with very different research interests. We therefore decided to give a short presentation of each of them and their exciting research. A biträdande lektor is similar to an assistant professor, and this is new type of tenure-track position meant for young promising researchers and teachers, giving them the possibility to start building an academic career.
First up is Johan Eklöf, and later we will present Tanja Slotte, Ayco Tack, Aelys Humphreys, Francisco Nascimento and Agnes Karlsson.
Johan Eklöf
Johan Eklöf is assistant professor in macrophyte biology (the biology of aquatic plants) at DEEP.
His research group works primarily with understanding the factors affecting biodiversity in coastal ecosystems, and the consequences of changes in the diversity of plants and animals. The research examines how organisms and communities respond to environmental change and disturbance, such as climate, eutrophication and overfishing, and what traits (characteristics like body size, life span, feeding preference) that makes organisms more or less resistant or sensitive to these changes. The results from this research are important as they provide us with tools for predicting and potentially preventing unhealthy ecosystem change in coastal areas.

Johan also looks at how changes in community properties, such as the number and compositions of species, affect ecosystem functions, such as primary production – the biological process in which organisms convert inorganic matter to organic matter. These changes in ecosystem functioning can in the end affect ecosystem services like the maintenance of good water quality and fisheries which are both highly important for human survival.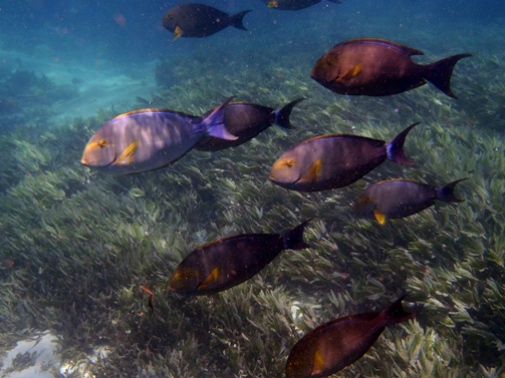 Predatory fish and food chains
One of Johan's main projects is the FORMAS-funded project Plant-Fish (www.plantfish.se), that looks at how coastal predatory fish (such as perch and pike) in the Baltic Sea influences organisms further down the food chain (e.g. plants) by eating smaller fish and invertebrates (animals without a backbone, in the sea this means most animals except for fish). The project also studies how submerged aquatic plants as foundation species (highly important species in an ecosystem) influence ecosystem processes and other organisms, including the large predatory fish.

- One of the working hypotheses is that large predatory fish and aquatic plants benefit each other (e.g. because the plants form nursery areas for the fish), and that the interactions between fish and plants can impact the whole ecosystem, how these organisms respond to environmental change, and how ecosystem services are generated. Understanding the role of positive interactions between groups of species (such as fish and macrophytic plants) is scientifically very interesting and important, and can hopefully also help to improve ecosystem-based management, says Johan.
Johan Eklöf's staff page
Plenary talk by Johan Eklöf at the 2016 12th International Seagrass Biology workshop
Last updated: January 31, 2017
Page editor: Pil Rasmussen
Source: DEEP