What's going on in Chernobyl?!
Researchers at DEEP have been visiting the still radioactive area around Chernobyl. What is actually happening in this interesting area of pollution and wilderness?
You've probably read all kinds of scary headlines about Chernobyl – for example, that it is a vast wilderness of contaminated land where animals are suffering from all kinds of terrible effects of the radiation that was released during the nuclear accident in 1986. On the other hand, you might also have heard reports that the Chernobyl Exclusion Zone (CEZ) is a sanctuary full of fantastic wildlife like wolves and bears! So what is really going on there?
As usual with such headlines, the truth lies somewhere in between. Earlier this autumn, a group of researchers from DEEP took part in a workshop in Ukraine to discuss the evidence and to suggest ways to deal with the conflicting data. We concluded that several species (such as Scots pine, soil invertebrates) have shown effects of radiation. However, sometimes effects are claimed to occur at radiation doses that are improbably low (e.g., lower than background radiation).
One of the most difficult aspects of this type of work is to measure and calculate the exact amount of radiation that an animal or plant has been exposed to. During the meeting, they also spent a lot of time discussing if the observed effects are only due to radiation or if other factors such as the absence of humans, the patchiness of the contamination and the variation of habitats has also affected the plants and animals in the CEZ.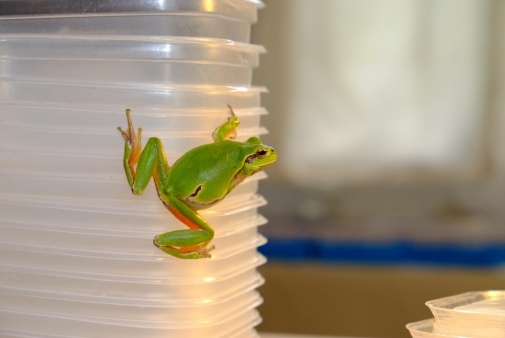 After the workshop they visited the CEZ and were some of the last people to see the crumbling structure around 'Reactor 4' (Picture 1) that was assembled under difficult circumstances immediately after the accident. At the end of November, a new structure has been pulled in place to cover the building and reduce the risk of future radioactive releases to the environment. There are some great timelapse films of this huge metal arch being pulled into place, for example: www.svt.se/nyheter/utrikes/metalljatte-pa-plats-i-tjernobyl
The researchers from DEEP are also involved in environmental research in the CEZ. Together with colleagues from France, Ukraine, Belgium and Uppsala, we're trying to find out if frogs, worms, fish and plants from contaminated areas show signs of long-term or transgenerational effects. Our colleague in Uppsala, Germán Orizaola, has a really nice blog about his field trip in the spring: https://gorizaola.wordpress.com/blog/ and #ChernobylFrogs16
Last updated: January 31, 2017
Page editor: Pil Rasmussen
Source: DEEP