Decreased plankton food quality in an acidified ocean
Our human activity on Earth results in an increased level of carbon dioxide in the atmosphere. A portion of the carbon dioxide is absorbed by the oceans, and in this process, the seawater becomes acidified. When the ocean becomes more acidic, its ecosystems are affected, including changes in species composition and reduced transmission of essential nutrients through the food chain, from the smallest plankton to higher trophic levels, such as fish.
Zooplankton and fish larvae get their nutrition from phytoplankton, which are small plants floating in the water. These produce polyunsaturated fatty acids that zooplankton cannot produce themselves. This means that the composition of the microscopic pytoplankton affect the food quality for the higher trophic levels of the food chain, including fish. Now a collaboration of researchers, including Stockholm University, have shown that increased carbon dioxide levels in the atmosphere, and an acidified water, affects negatively the food quality, which may have a major impact on the sea as food resource for humans.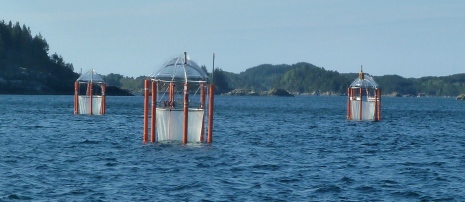 - The increase in atmospheric carbon dioxide affects us not only through the greenhouse effect. We also need to monitor the nutrients produced and transferred between the trophic levels in the ocean, says Monika Winder, a researcher at the Department of Ecology, Environment, and Plant Sciences, Stockholm University.
The researchers studied the effect of increased carbon dioxide levels in the atmosphere by so-called mesocosm experiments, where a modified atmosphere is created in smaller test-environments placed in the sea, in Raunefjord, southern Norway. In these small defined environments, with a water volume of about 75 cubic meters, the researchers have been able to measure the various effects of changes in the atmosphere. The experiments show that the composition of plankton change with changes in carbon dioxide concentration. The smallest phytoplankton, picoplankton, is favored, while the nutrient-rich nano- and micro plankton are adversely affected. This change in phytoplankton community composition decreased essential fatty acid composition in plankton. Because these plankton are the base of the food chain, the changes may have consequences for the entire food web.
The research was conducted by Monika Winder from Stockholm University in an international collaboration with researchers from Germany and Norway. The research results were recently published in the journal Scientific Reports, and can be read here: Ocean acidification Reduces transfer of essential biomolecules in a natural plankton community.
Last updated: July 4, 2016
Page editor: Johan Klint
Source: Department of Ecology, Environment and Plant Sciences