Show respect for fellow university students
The library should be a pleasant study place for everyone, so we would kindly ask you not to eat food in the library and keep your voice down.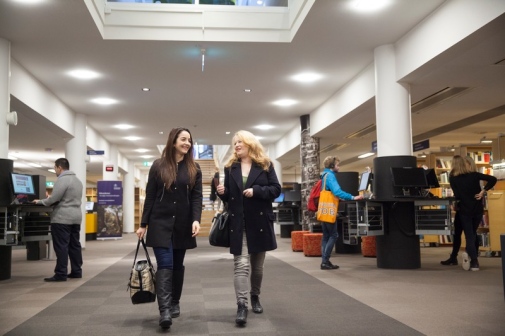 Keep in mind that allergy sufferers may find it difficult to visit the library, if people are eating food in the library. It is ok to bring beverage and eat sweets or fruit.
Please show respect for the students in all the quiet reading areas
The entire upper floor is a quiet zone and perfect for those who need to study in peace. Please, do not play music too loud in your headphones and keep your phone on silent mode. Kindly keep your voices down in the group rooms, especially on the upper floor.
Read more about the library as a place of study.
Damaged chargers may cause power outage
You may cause a power outage on the upper level if you use a damaged charger in the electrical outlets of the library. Please check that the charger you are using is safe and appropved for your phone or laptop.