"Knowledge Resistance" online book talk with Mikael Klintman
Online book talk with Mikael Klintman (Lund University), author of "Knowledge resistance: how we avoid insights from others", part of the Manchester University Press Armchair Events.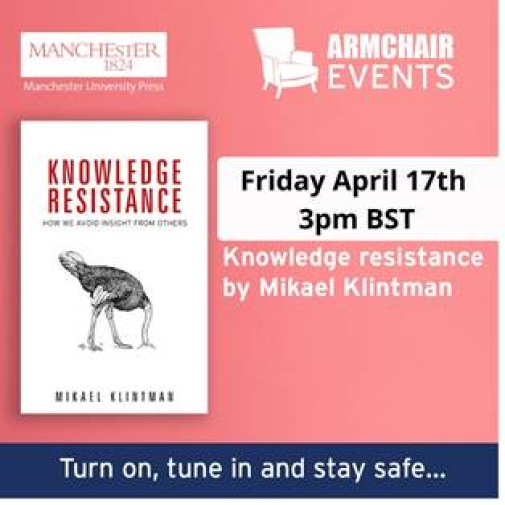 In this period of cancelled events and uncertainty, we are pleased to direct your attention to an online book talk by programme affiliate Mikael Klintman (professor of Sociology, Lund University).
As part of Armchair Events, a series of online book talks hosted by Manchester University Press, Mikael Klintman will read an exceprt from his book Knowledge Resistance (Manchester University Press, 2019) and discuss the concept in the context of the Corvid-19 pandemic and other current issues. The event will also include an interactive Q&A.
The event takes place on 17/4 at 3pm BST. Registration is free and open to all. You can register by clicking on this link: https://attendee.gotowebinar.com/register/7867937389044929548
Last updated: April 16, 2020
Page editor: Emma Lindhagen
Source: Department of Philosophy