Autumn cycling for staff at SU on 16 October
EVENT
Date:
16 October 2021, 10.00 AM
-
16 October 2021, 4.00 PM
Venue:
See below.
A warm invitation to this autumn's cycling for staff at SU! Please note that pre-registration is required.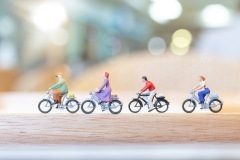 Please contact Milena Podolšak if you want to come along, see Would you like to come along?, below.
Interview with Milena (in Swedish):
Cykla tillsammans – och lär känna omgivningarna
When and where?
Saturdays in the Stockholm area.
The next tour: Saturday 16 October at 10 am from Västerhaninge commuter train station.
Google maps pin: Västerhaninge.
Route: Västerhaninge commuter train station – Västerby (fika) – Grödby – Väggarö – Ösmö (lunch at a restaurant) – Norsbol – Nynäshamn commuter train station (see the map below for details).
You can catch commuter train (pendeltåg) 43 or 42x towards Nynäshamn to Västerhaninge station. Bikes are aloud on commuter trains during the weekend and there is a designated place in the front/back of each wagon.
SL: Cykel ombord (Bike onboard, only in Swedish)
How far are we going?
On 16 October: 54 km in a bit faster tempo. The road is mostly tarmac so road bikes are ok for this tour. Also, there are almost no bike lanes on this road, we will be cycling on a regular road. However, the traffic is minimal.
Shorter trips: 15–25 km, slower pace, afternoons, one–two fika breaks.
One-day excursions: 40–60 km, a little bit faster tempo, lunch and fika breaks, in combination with commuter train.
Earlier routes
2 October: Rosersbergs commuter train station – Steninge slottsby (fika) – Sigtuna (lunch) – Wenngarns slott – Märsta commuter train station (32 km).
18 September: Frescati – Gärdet – Djurgården (fika) – Albano – Frescati (15 km).
Should you bring anything?
Bike, water bottle, warm clothes, possibly rainwear, money for transports, fika and lunch, mobile phone and possibly a powerbank. A repair kit in case of a flat tyre might be a good idea, and a first aid kit – Milena brings both, as well as a bicycle pump (with two different valve adapters).
What about the weather?
Trips will be cancelled in case of very bad weather.
Any costs?
Participants themselves bear transport, lunch and fika costs.
Would you like to come along?
Would you like to be involved in arranging a ride or do you just want to come along? Please note that pre-registration is required. Also, feel free to contact Milena Podolšak, should you have any questions or suggestions: milena.podolsak@su.se
Last updated: October 14, 2021
Page editor: Pia Nordin
Source: Milena Podolsak