Register for courses in spring 2021
Welcome to the Department for Swedish Language and Multilingualism (Svefler). Once you have been admitted to an education with us, you will receive an email from one of our Student counsellors or Course administrators.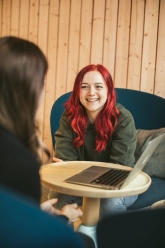 In the email, you will receive information needed before the course starts. We usually email you after the first admission, and after the second admission if you are newly admitted then.
The information on this page, can also be found on each course page in the Stockholm University Course catalogue.
Have you not received an email?
We email the email address you have registered on antagning.se.
Have you checked your spam box?
Have you registered the correct email address? Check your account on antagning.se.
Do you need help? Contact the Student counselor or Course administrator – contact information can be found further down on this course page under Contact.
Register online and last registration day
Usually you need to register online, and you have to register on time to confirm and keep your place. Please see the email from the Student counsellor or Course administrator.
Activate your Student account to be able to register.
Web-based teaching in Zoom
Teaching at our Department mostly takes place digitally during the first half of the spring semester 2021. There will only be a few occasions with teaching and examination on campus. Please read our FAQ: Questions and answers:
Both distance and campus teaching at the Department autumn 2020 and spring 2021. FAQ
Our teachers use the e-meeting service Zoom for lectures and seminars. Familiarize yourself with Zoom before it's time for your first seminar, it's free for students at Stockholm University.
Course site in the e-learning platform Athena
We use the e-learning platform Athena for communication within our courses. Each course has its own course site where teachers will make relevant material available at the start of the course. You will access Athena after you have registered.
Both distance and campus teaching spring 2021
Both distance and campus teaching at the Department spring 2021. FAQ
Last updated: January 12, 2021
Page editor: Pia Nordin
Source: Department of Swedish Language and Multilingualism